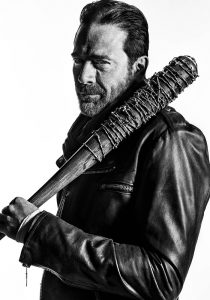 Jeffrey Dean Morgan is an American actor who is playing Negan role in The Walking Dead Season 7 and now he is getting so famous around us. The series also is so famous and The Walking Dead Season 7 reviews state that every one are crazy about watching it. According to these days, fashion comes at first priority whether you are young or old because age doesn't matter if it comes to fashion. Negan has become a symbol of fashion specially his Leather Jacket is known as fashion icon. The Negan jacket is biker style that is the core reason for bikers to choose it while riding.
Jacket Features:
The Jacket is made of Real or Faux Leather
It has front branded zipper closure
It has zipper pockets outside and two simple inside pockets
It has wide collar
It has flaps on shoulders
It has polyester lining inside for maximum comfort
Neat stitching
Dry Clean only
Fashion Tips with Negan Jacket:
Wear a blue jeans with plain color t-shirt and a muffler. And at the end wear your Negan Jacket. Now you are ready to show off your style being as a Negan big fan.